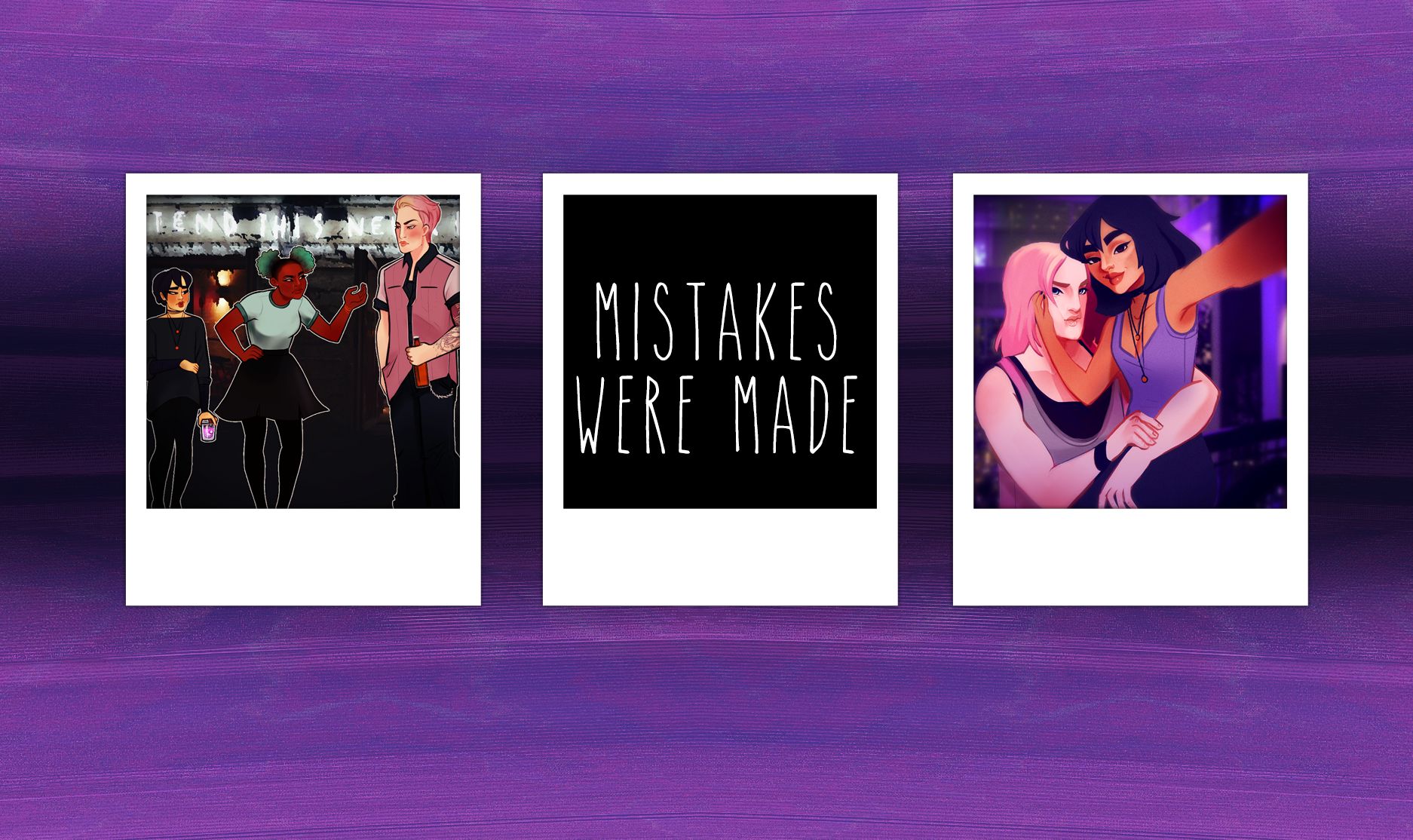 Mistakes Were Made
A downloadable game for Windows and macOS
[ Please play with caution! It does touch on mental health, anxiety, eating disorders and other topics of that nature. Caution if you're easily startled or are sensitive to flashing images, simulated panic attacks or warped audio. ]

Premise & Plot
Paige lived a sheltered life in the spotlight, and came out the other side worse for it all. She can't even sing anymore, something she made millions for only a few years ago. It's a shame all that money remained with the record company, and somehow she still owes them a few million more. While writing lyrics for the new wave of pop stars is okay, Paige can't help but feel like there's more out there for her than lyrics.
But what?
CAST
Paige Reed Ex-popstar and full time lyricist; Paige has lived in the spotlight from when she was twelve two years ago. Now, she has a hard time outside and she cannot stand the stage. Yet, that's where she finds herself, after months of badgering from...
Anna Raymonds Professional skateboarder and currently a bassist; after a bad fall from their board, Anna ended up with more time on their hands than they know what to do with. They do not understand being told they can't have something or to chill out. This causes a number of issues with their manager. They were the one who took encouraged Paige to escape the stranglehold of her manager, and of...
Murdoc Matthews (WIP) Murdoc acted as security for Paige when she was on tour, and holds himself responsible for what happened to her. Due to a mutual friend with Anna, he's been hooked into a band with her. He's a singer and guitarist, while Anna plays bass. Their friend, Ryan, used to skateboard professionally before he retired to do music. Murdoc? After Paige escaped, he lost his job as tour security and bounces from festival to festival. Sometimes he's a personal bodyguard, but mainly he writes.
Team
Just me, HexVexed
✧*:・゚✧ Ⓢ Ⓞ Ⓒ Ⓘ Ⓐ Ⓛ ✧*:・゚✧
http://hexvexed.com // hexvexed (@) gmail (.) com
Instagram ➤ http://instagram.com/hexvexed
Patreon ➤ http://patreon.com/hexvexed
Kofi ➤ https://ko-fi.com/HexVexed
Etsy ➤ https://www.etsy.com/au/shop/hexvexed
Twitter ➤ http://twitter.com/hexvexed
Twitch ➤ http://www.twitch.tv/hexvexed
Tumblr ➤ http://hexvexed.tumblr.com
✧・゚:* VERSION 1.0 *:・゚✧

As of the 12th of March 2019, I've released a prototype of the game as it currently exists. The main route is Anna, with most assets developed in her path. I became too ambitious and the project grew way bigger than expected... But it's a start!? Anyway! Let me know what you think in the comments below. If any issues stand out to you, or any paths stand out to you that you'd be interested in, I'm happy to take on the feedback!